X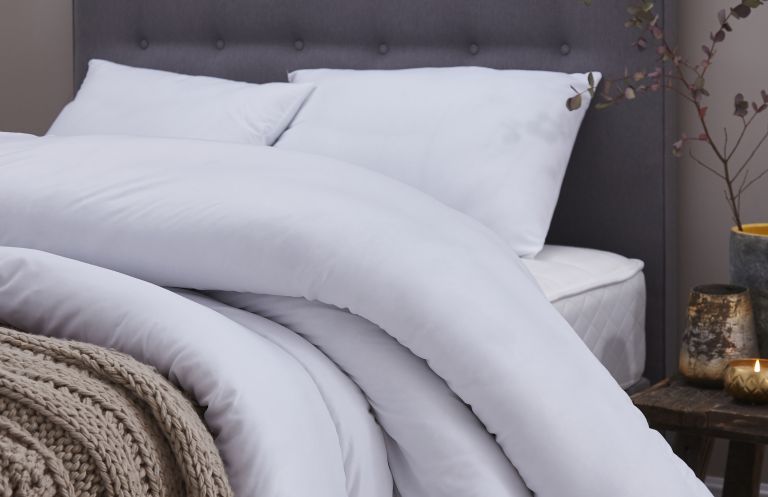 Bedroom
Anti-Allergy Bedding can help you Sleep Better
Is sneezing, wheezing and itching disrupting your sleep? As well as being frustrating, allergy symptoms can also reduce the amount of quality sleep you get each night. It may be worth considering anti-allergy bedding?
The average bed can harbour a variety of allergens, from dust mites to fungal spores. Considering that we spend an average eight hours per night in bed, it's no wonder that allergy symptoms can disrupt our sleep.
If you find, you suffer from allergies triggered by dust mites or fungal spores, it is worth looking into ways to improve your sleep environment.
Fortunately, hypoallergenic bedding can help you to sleep better as it is specially designed to reduce the chance of an allergic reaction. It does this by creating an environment in which allergens find it difficult to survive. While there are many anti allergy duvets and pillows out there, wool is particularly effective for repelling allergens and providing a hypo-allergenic sleeping environment for you.
Wool, a natural material works wonders to absorb moisture and stay cool, creating an environment which deters dust mites, dust mite allergens and fungal spores and it has been scientifically proven to be effective without freezing or washing at high temperatures.
The Wool Room pillows, duvets, mattress protectors and mattress toppers, available from Sienna Home Furnishings are ideal for anyone who suffers from allergies, asthma or eczema and in fact, The Wool Room bedding is the only wool bedding to have been awarded the Allergy UK Seal of Approval.
Sienna Home Furnishings also offer a range of handmade, natural, wool mattresses from Harrison Spinks. If you suffer from allergies, a wool mattress can help you breathe – and sleep – easier. Because wool is anti-bacterial and can trap floating dust, it's the perfect mattress filling for people who are allergic to such things as synthetic fibres or dust mites.
Furthermore, wool is inherently fire-retardant – it has a higher ignition threshold than many other fibres: around 600°C. This means that no allergy-inducing chemicals need to be added to a Harrison bed.
Visit our showroom and speak to one of our experts in our Sleep Room section. We would be more than happy to answer any questions about our natural wool beds and bedding.
JOIN OUR MAILING LIST
Keep Updated with the latest offers, sales and preview events
We Would like to offer you the chance to join our Mailing List. We will use this to update you on special offers, forthcoming promotions and new products at Sienna Home Furnishings - ensuring you receive the best value and the latest information on our latest lines. There will also be extra special promotions available only to our Mailing List customers providing you with even better value!
JOIN MAILING LIST